PRESENTATION OF THE NEW PUBLIC ADDRESS & VOICE ALARM SYSTEM EN54-16 EXEO

PRESENTATION OF THE NEW PUBLIC ADDRESS & VOICE ALARM SYSTEM EN54-16 EXEO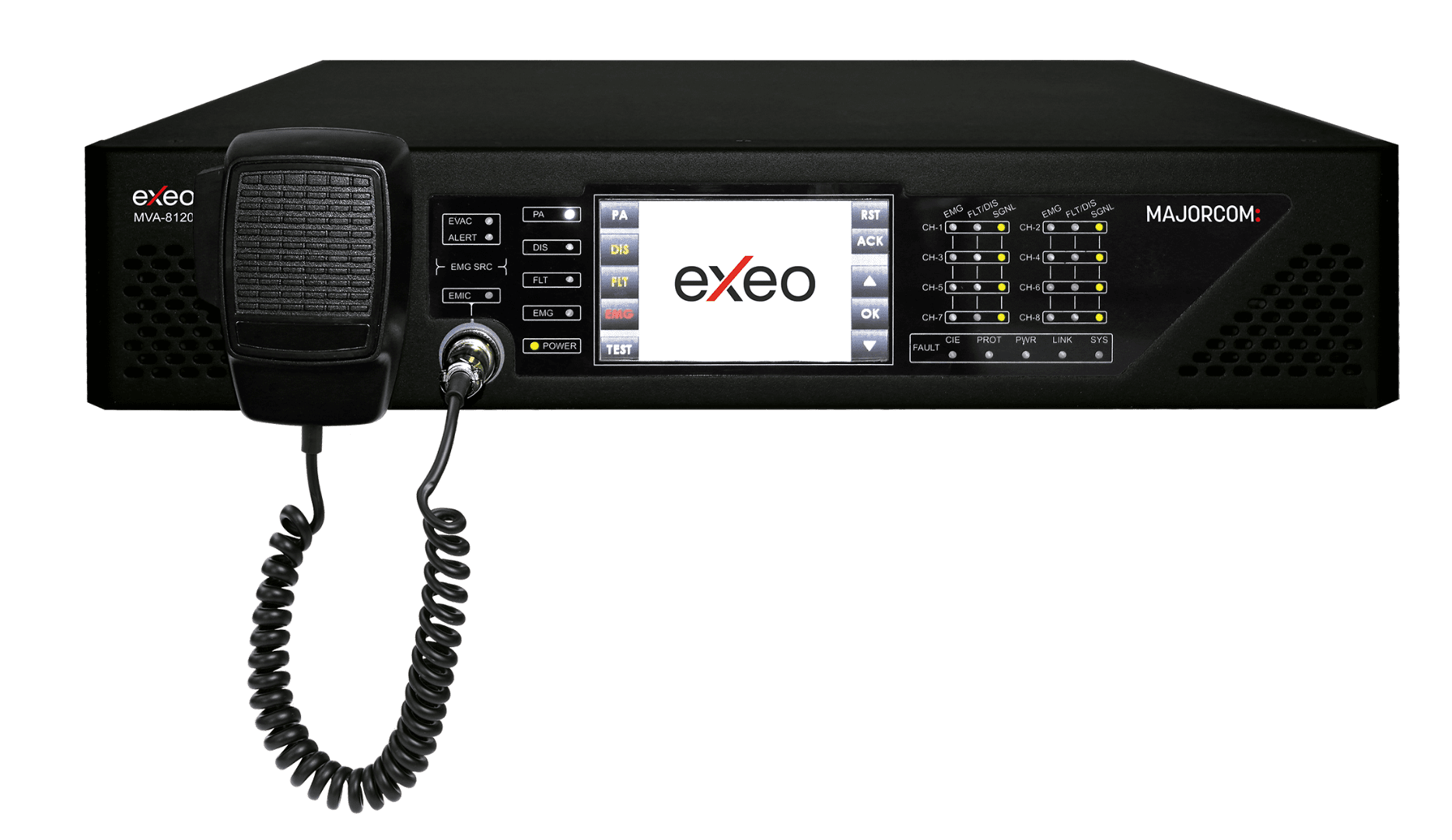 The EN 54-16 Public Address and Voice Alarm System EXEO is a compact, all-in-one, cost-effective unit.
Its plug-and-play feature, reduces time and costs by substantially simplifying the installation, maintenance and operation of the system.
Our ambition is to provide you with the best of our technology, combined with a strong determination to make it accessible. This is how EXEO was born: a compact and user-friendly system, unique on the market.
Features
Making a difference
More reliability and durability
Apart from being a certified EN 54-16 system, EXEO was made to last and to be highly reliable. It has components of the highest quality and durablity, plus it offers specific features that go way beyond the minimum requirements of obtaining the certification.
Easier to use, install and maintain
EXEO is a compact system with plug-and-play philosophy that includes in just one equipment of 2U what normally requires several items from other manufacturers. EXEO includes 8 amplifiers, a digital audio matrix (40×1024), line supervisor, back-up amplification, double message player with 4GB, HQ audio over Ethernet, and a touch screen among other features.
Easier to scale
EXEO is very easy to scale. Either locally, through direct connection of EXEO-Extension units with Ethernet cables, or in a distributed way through Ethernet switches.
More flexibility and integration options
EXEO can be easily integrated and can communicate openly with third-party systems (by using UDP Ethernet commands, by RS-485 or contact closure relays).
HQ Audio over Ethernet
EXEO natively includes audio over Ethernet, it can diffuse through its built-in audio inputs or receive up to 32 extra audio outputs from the network of very high quality audio (48Khz, 24 bits) in real-time without a noticeable delay.
Web-based control
EXEO is accessible remotely through an intuitive web-based control interface from the network. Thanks to the SINEO software, the operator in central control post can easily control and monitor several EXEO systems.
Front side
Easy control and supervision at your fingertips
8
Amplification channels / Extra zones
60W RMS
Power per amplification channel
4,3" Touch screen
Offers a fast and intuitive access to all the main functions of the system.
Supervised emergency microphone
Integrated supervised (connection and capsule) Push-to-talk (PPT) microphone of high quality.
Monitor Loudspeaker
The audio inputs in EXEO or the audio routed to each zone can be monitored in real time with a built-in speaker.
Dual pre-recorded message player
With an internal memory of 4GB, EXEO can store hundreds of messages and play them manually or automatically. 2 different messages can be played at the same time in different zones.
Internal Digital Audio Matrix
A Digital Audio Matrix 40×1024 that allows simultaneous and independent routing of any of the audio inputs to any of the zones.
Rear side
8 class D amplifiers, built-in line supervision, audio over Ethernet, advanced integration ports and more

8 built-in class-D amplifiers
8 x 60W RMS @ 100V allowing up to 8 independent zones with one piece of equipment.
Back-up power supply connection
Connection with the EN 54-4 PSU and battery charger.
Contact-closure interface with Fire Detection System
12 supervised contact closures I/O and inputs per zone.
8 outputs for attenuators control
24V output signals for deactivating up to 32 volume attenuators automatically.
Line monitoring and built-in back-up amplifier
EXEO can detect open circuit or short-circuit in all its amplification lines, and optionally, it can use its 8th amplifier as back-up for the rest.
8 pre-amp audio outputs
8 audio outputs that duplicate the audio signal that is present or routed to each amplifier/zone.
RS-485 interface for advanced integrations
EXEO can easily send or receive RS-485 commands to allow the creation of advanced integrations with other systems.
ACSI bus interface
Allows the connection of up to 8 remote devices in the ACSI bus, either EVP microphones or EVS Panels.
8 End of Line (EOL) device inputs
Optionally, it is possible to connect End of Line (EOL) TFL device inputs to detect any issues in the speaker lines.
5 balanced analog audio inputs
Any of the audio inputs of the MVA-8120 can be routed independently to each zone thanks to its internal digital audio matrix (40×1024). Additionally, EXEO can receive up to 32 supplementary audio inputs.
14 GPIO for advanced integrations
Thanks to the advanced event generator included in the EXEO Configuration software, it is possible to combine, through logical operations, GPIO signals in order to perform any action in the system.
RS-485 interface for Fire Detection Systems
Specific RS-485 interface for advanced integrations with Fire Detection Systems.
Triple Ethernet port
It allows the reception and sending of Cobranet Digital Audio (up to 32 more audio inputs), a remote control and supervision, integrations using UDP commands, and the redundant connection with EXEO Extension (SVA) units.
Easily scalable with EXEO-Extension units
The EXEO system can be easily scaled with EXEO-Extension units that will add extra power and zones to the system.
EXTENSION SVA-8250 :
8
Amplification channels / Extra zones
125W RMS
Power per amplification channel
1 000W RMS
Total max. power
4
Amplification channels / Extra zones
125W RMS
Power per amplification channel
4
Amplification channels / Extra zones
250W RMS
Power per amplification channel
1 000W RMS
Total max. power
4
Amplification channels / Extra zones
250W RMS
Power per amplification channel
1 000W RMS
Total max. power
EXEO Microphones & Accessories

EXEO CONTROL
EXEO SYSTEM CONTROL SOFTWARE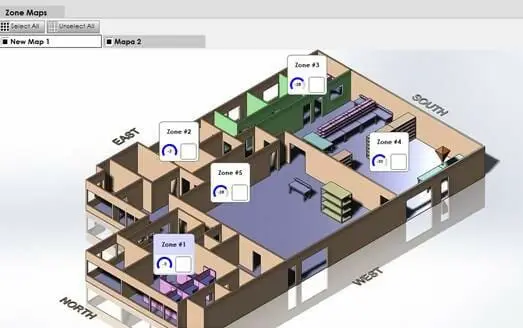 EXEO Control is a software to control the EXEO system from a Windows PC connected in TCP/IP.
EXEO Control allows you to manage volumes in zones, assign sources to different zones, and manage input volumes.
It is also possible to launch events such as triggering messages, presets…
Very easy to use, its interface allows the insertion and customization of one or more visual maps of the site.
• Easy to use and install
• Source assignment control
• Volume control of sources and zones
• Total supervision of the system by zone (fault, evacuation, etc.)
• Allows adding the installation plan/map (jpg, png)
• Synchronization with the EXEO system
• Exclusive for EXEO systems (MVA 8120 and EXEO expansion units)
• An EXEO system can accept up to 5 EXEO CONTROL connections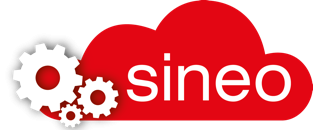 Multi-Site E

X

EO System with SINEO software
Several EXEO systems can be connected in a data network and controlled/supervised using the SINEO Control software.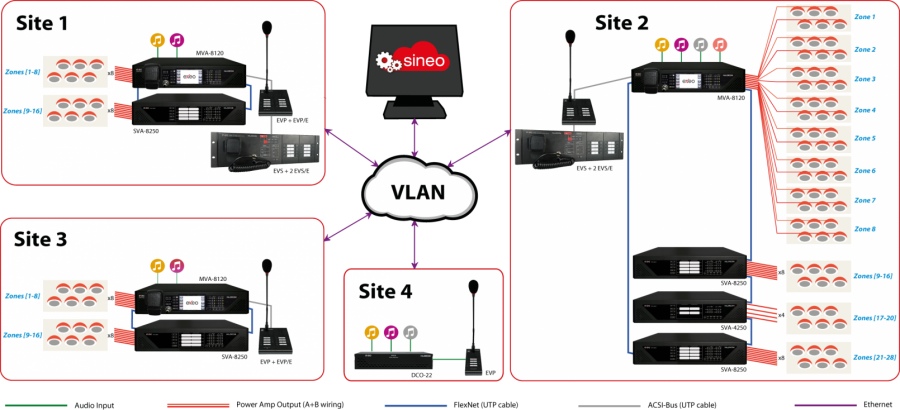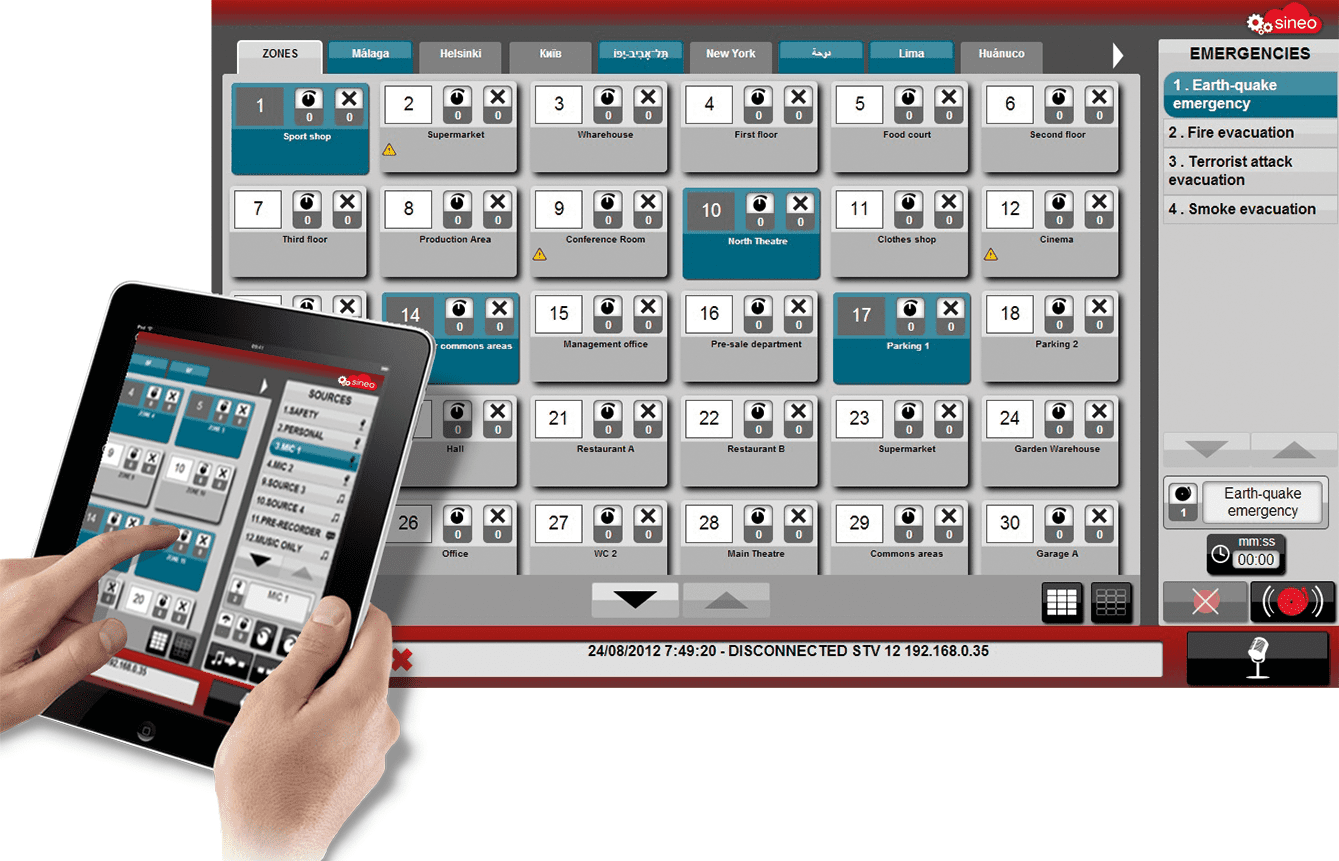 SINEO is a server / client application that allows remote control over the system via TCP / IP.
The SINEO interface adapts to the customer's needs: Zone Volume Control, Matrixing, Presets…
SINEO can also control a Multi-site system with several EXEO Master units.
Routing source to any zone, manage input levels and volumes of zones
Manage a Messages Player
Create/Manage Calendar Events
Access Code Management
Triggering Presets
Possiblity to trigger Evacuations Messages
Sineo EVAC is a control and supervision system through Ethernet networks for voice evacuation functionalities.
The system allows monitoring active messages and zones at any time during an evacuation/alert process through the color code of the zone button.
Completely independent VAP system for emergency management (redundancy of emergency operation post).
It allows emergency management of multiple EXEO islands through Ethernet communication, as well as supervision through direct monitoring of EXEO equipment.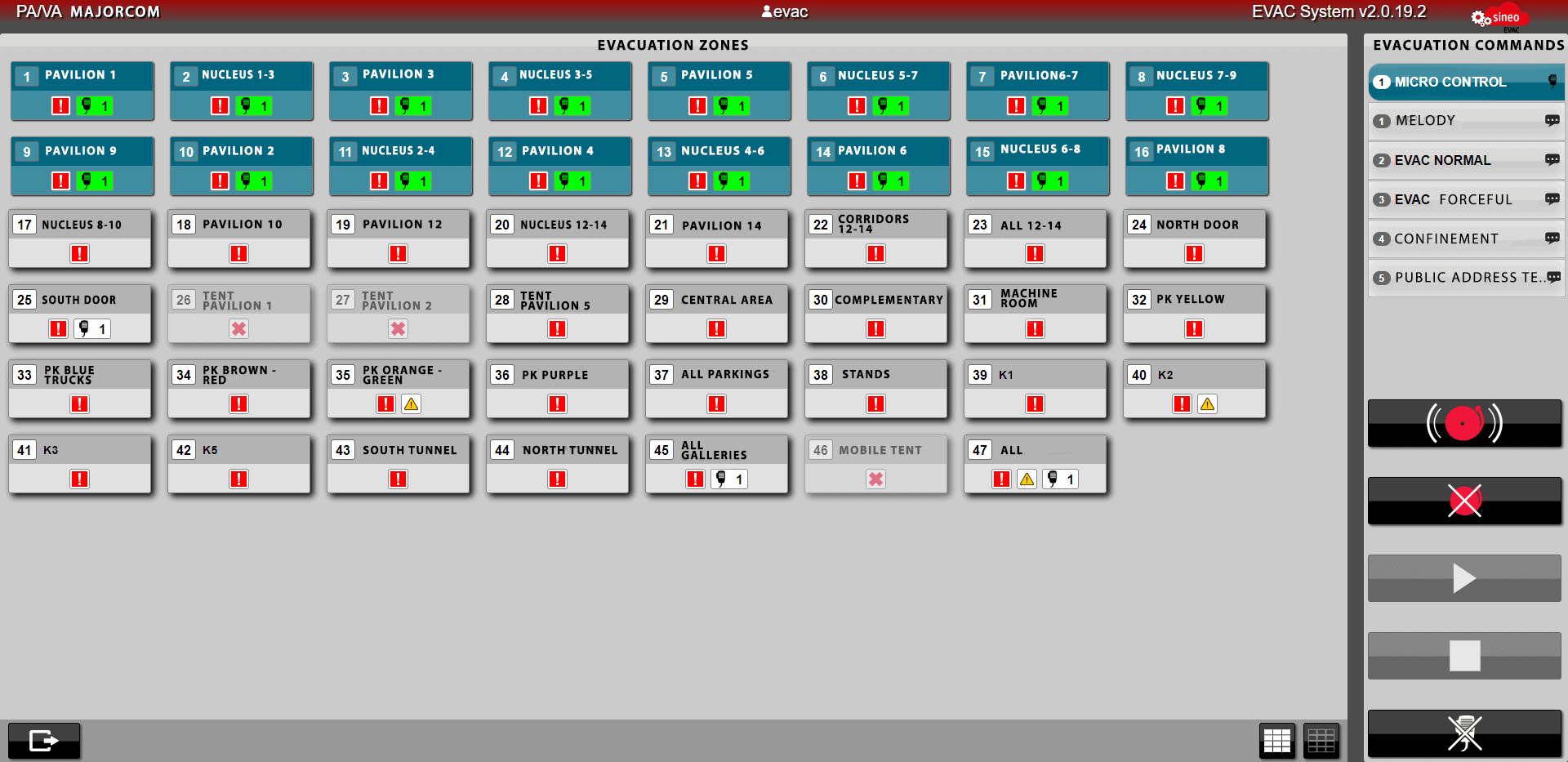 Services to ensure your satisfaction!
Find all our products, their description and technical details in our catalog.
MAJORCOM places customer service at the heart of its business model thanks to its dedicated business team. Our systems are custom-designed by our engineering department which is staffed with acousticians and electronic engineers, with the expert support of our R&D department, and an after-sales department with highly involved support functions.
Need some information? Fill out the contact form or contact us directly on +33 5 61 31 86 87
Address: 56 Chemin de la Flambère, 31300 Toulouse, France


See the map